Quick and Easy Chicken Soup
Quick and Easy Chicken Soup
As our grandmothers knew, chicken soup has great healing properties. When we are tired or unwell, however, we are sometimes unable to do much in the way of preparing food for ourselves.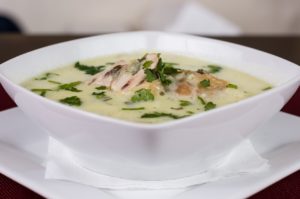 This recipe is easy, simple and nourishing. Most of the ingredients can be kept on hand in the pantry, fridge and freezer so that we can easily feed ourselves something good and good for us.
1 – 32 oz carton chicken broth (preferably an organic brand)
1 cup or less thin carrot slices
1 cup or more chopped fresh spinach leaves or arugula
1 or 2 chopped scallions
1 handful fresh cilantro (if you like it)
A little lemon juice
Put broth and carrots in a sauce pan and bring to a boil. Turn off heat and stir in spinach, scallions and cilantro. Cover and let sit 2 or 3 minutes until greens are wilted. Spoon into a bowl and add a little lemon juice.
Some chicken meat can be added if you wish. If raw, cut into small pieces and add with the carrots. If cooked, cut into small pieces and add with the greens.
Enjoy.
© 2020 Anacaria Myrrha
Image: Christo Anestev